Inside Athena: Northwood Rehab's Resident Ambassador From Brazil
LOWELL, M.A. — Nadia Toriani Tauchert misses living in Brazil and said "everything's good" in her  South American country, but has found as much joy and happiness living in the states with the job she has found.
The Northwood Rehabilitation & Health Care Center Resident Ambassador dedicated 18 years to emergency hospitals in her home country. In 2019, she moved to Canada to work at an elderly hospital and fell in love with the community. She calls it a "life mission." While there, Toriani Tauchert visited her family in Massachusetts. She officially moved to the state four years ago.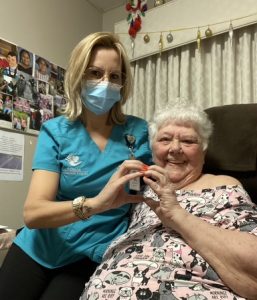 Toriani Tauchert was hired as the Resident Ambassador of Northwood three years ago. Speaking through a translator, Toriani Tauchert, whose native language is Portuguese, explains how her job entails visiting with residents, asking what they need and communicating that to nurses, and much more.
She worked with children in the past but found more enjoyment in working with the elderly population and the conversations and relationships that come with it.
Toriani Tauchert takes pride in her heritage. 25% of the residents at Northwood are Spanish or Portuguese-speaking and she'll help translate. She did a project called LINGUA MAE, or Mother Language, to help residents communicate for an hour a week with people from their home countries. Google Translate also comes in handy to speak with residents in other languages.
Fatima Duart, a Certified Nursing Assistant at Northwood translating the conversation, called Toriani Tauchert a "sweetheart."
"She's very attentive to the residents," Duart said.
Toriani Tauchert, a mother of four and grandmother of five, said it's all about teamwork.
"I am passionate about what I do and the residents and I have a reciprocal love [for them]," she wrote. "I love everything I do. It's not a job it's my life. Among so many projects I've had in my life, this is the best."
Follow Athena Health Care Systems on Twitter and Facebook & Northwood Rehabilitation & Health Care Center on Facebook. Interested in a career with Athena? Click here!
MORE FROM ATHENA